Hailing from Guangzhou or Beijing, elderly riders averaging over 60 cycle to welcome the Asian Games in Hangzhou
The 19th Asian Games are set to kick off in Hangzhou from September 23rd to October 8th. To celebrate this grand sporting event, a group of spirited individuals with an average age of over 60, embarked on an extraordinary journey, pedaling their way from Beijing or Guangzhou to reunite in Hangzhou.
This remarkable odyssey was undertaken in a seemingly audacious manner, demonstrating their love for life and fearless spirit. It serves as a testament that age is no barrier to action, as long as one possesses determination and passion.
On September 2nd, 66-year-old Chen Jianian joined the "Jing-Hang Dream Cycling Team". Their expedition commenced at Tongzhou, the starting point of the Grand Canal, and they reached Hangzhou on September 17th, marking the completion of their mission to welcome the Asian Games. The total distance exceeded 1600 kilometers.
"We believed that cycling to Hangzhou would help us enhance our physical fitness, and give up a chance to witness the beauty of our homeland in a unique way." Chen Jianian stated.
The journey comprised 22 participants, divided into two teams: the "Guangzhou-Hangzhou Team" and the "Beijing-Hangzhou Team," starting their respective journeys from the two Chinese cities that have hosted the Asian Games except Hangzhou.
When questioned about how this senior group overcame physical challenges and health issues, Chen Jianian candidly admitted, "Two months ago, we never imagined having the courage to embark on such an endeavor. When it was decided, we started training. Weekends were dedicated to regular training, which involved cycling to cities like Zhaoqing, Zhongshan, and Dongguan from Guangzhou, covering two to three hundred kilometers."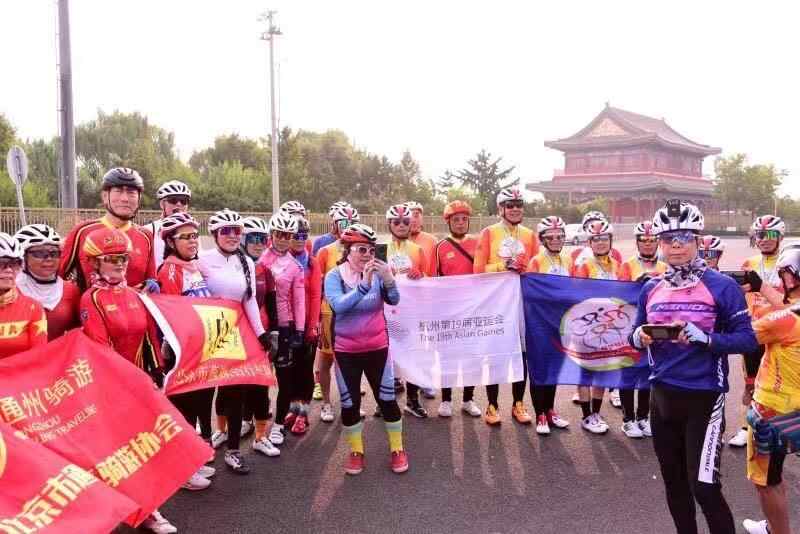 The Guangzhou-Hangzhou team began their journey in Guangzhou, passing through nine cities (Guangzhou, Huizhou, Chaozhou, Zhangzhou, Quanzhou, Fuzhou, Wenzhou, Taizhou, and Hangzhou), all of which were historic stops on the Maritime Silk Road, giving the ride even more significance.
Most members of the Guangzhou-Hangzhou team are from the Guangzhou Dream Cycling Team, established in 2012. They have completed five international cycling journeys and were received by Thomas Bach, the President of the International Olympic Committee, three times. They have also participated in three Olympics (London, Rio de Janeiro, and Beijing Winter) and two Asian Games (Incheon and Jakarta), and even made appearances at the Beijing Winter Olympics bid presentation.
Chen Jianian, also a member of the Guangzhou Dream Cycling Team, chose the Beijing departure route for this particular endeavor. He shared his thoughts on the event's planning, stating, "Through cycling, we are connecting the three Asian Games host cities: Beijing, Guangzhou, and Hangzhou. The endeavor of us, a group of elderly riders, embodies the power of the Olympic spirit. We hope to inspire more young people to engage in outdoor sports and cultivate a habit of working out."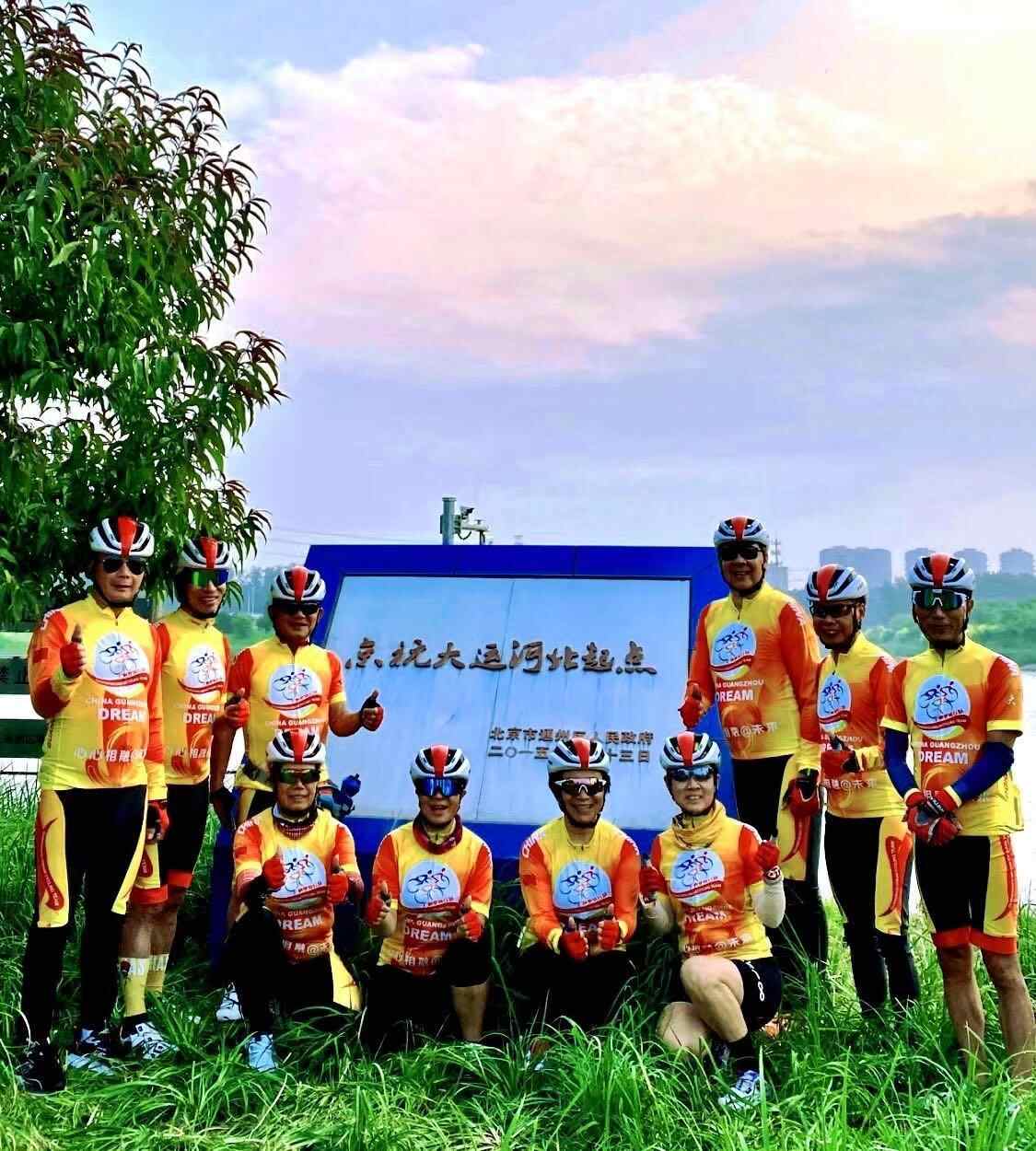 Cycling about two thousand kilometers to welcome the Asian Games is just one of the many adventures in their long and eventful lives. As Chen Jianian aptly put it, "Age and adverse weather cannot deter a group of riders moving towards their goals. We cycle for a healthy life and the loved life itself."
平均年龄超60岁,他们从广州、北京骑行到杭州迎亚运
第19届亚运会将于9月23日至10月8日在杭州举办。为庆祝这一赛事的到来,一群平均年龄超60岁的老人,兵分两路,分别从北京和广州出发,骑行到杭州会合。
这是一趟不平凡的旅程,他们以一种看似疯狂的方式完成了目标,也在向人们传递着热爱生活、不惧挑战的精神,只要有足够的渴望,在什么年纪行动都不算晚。
9月2日,66岁的陈嘉年,随京杭梦骑行队从京杭大运河的始发地通州出发,将于9月17日抵达杭州,完成迎亚运的仪式。全程骑行超1600公里。
"我们觉得骑行前往杭州,有助于提高体力,也希望能够通过这种方式观看祖国的大好河山。"陈嘉年说道。
这趟"骑行杭州亚运会"之旅,22名参与者又细分为广杭队和京杭队两支队伍。一支从北京出发,另一支则从广州启程,正是中国举办过亚运会的两个城市。
当被追问到一支老年队伍如何克服体力障碍和身体健康等现实问题时,陈嘉年坦率地承认,"两个月前,我们也没想到能有勇气去做这样的一个事情。当真的确定时,便提前开始拉练。周末两天是固定的训练时间,比如从广州骑行到肇庆、中山、东莞等地,完成两三百公里的拉练目标。"
广杭梦骑行队从广州出发,途经九"州"(广州—惠州—潮州—漳州—泉州—福州—温州—台州—杭州),全部是海上丝绸之路的停靠驿站,为这趟骑行赋予更丰富的意义。
广杭梦的队员大部分来自广州梦骑行队,广州梦骑行队创建于2012年,已完成5次海外骑行,3次获得国际奥委会主席巴赫接见,先后亮相3届奥运会(伦敦奥运会、里约奥运会和北京冬奥会)、2届亚运会(仁川亚运会、雅加达亚运会)和北京申办冬奥会大会现场。
陈嘉年也是广州梦骑行队的成员,只是本次活动选择了从北京出发的路线。对于该活动的规划,他表示:"通过骑行,把北京、广州、杭州三座亚运之城联动起来。特别是我们这群上了年纪的老头老太,更能彰显奥林匹克精神的力量。也希望能够鼓励到更多年轻人,多尝试户外运动,养成强身健体的习惯。"
骑行千里迎接亚运会仅仅是他们漫长人生中的一次经历,他们也会持续探索新的旅途。正如陈嘉年的分享中提道:"年龄和风雨都阻挡不了一群向着目标前行的骑行者,要为健康生活而骑行,为自己热爱的生活而骑行。"
文 | 记者 詹淑真
图片 | 受访者提供
翻译 | 刘佳慧