Exclusive interview with Chinese Ambassador to Indonesia Lu Kang: China's culture and stories have strong appeal in Indonesia
Over 600 years ago, Zheng He made multiple voyages past today's Indonesia on Java island during his voyages to the "Western Oceans", leaving many cultural relics from China on this Southeastern Asian island. Throughout ancient times and today, Indonesia has continuously deepened cultural exchanges and mutual learning with China while developing its splendid civilization.

In February 2022, Lu Kang was appointed Ambassador Extraordinary and Plenipotentiary of the People's Republic of China to the Republic of Indonesia. In his address on the embassy's website, he proposed expanding people-to-people exchanges between China and Indonesia. How can China better promote its culture going global and tell China's stories well? Recently, an interview team led by Du Chuangui, President of the Yangcheng Evening News Group, conducted an exclusive interview with Ambassador Lu Kang at the Chinese Embassy in Jakarta. Lu Kang said that as cooperation between China and Indonesia deepens, cultural and trade exchanges are becoming more complementary, and China's culture and stories have a strong appeal in Indonesia.

Cultural origins are connected across mountains and seas, finding common ground between the two countries
"Historically, the entire Southeast Asia region, including Indonesia, has had very close cultural exchanges with China," Lu Kang mentioned. He has visited many places in Indonesia and could sense cultural relics left by China there.
In Semarang, Central Java, Zheng He is known as "Sanbao Daren" (Admiral Sanbao) and is beloved by locals. The local Tay Kak Sie Temple has an enshrined hall dedicated to Zheng He. The bay where Zheng He sheltered during his voyage – Sam Poh Tong – is also a Chinese cultural heritage site and a popular check-in spot for tourists.
The Hoabinhian discovered on Sumatra island is believed by archaeologists to have originated from the upper reaches of the Lancang River-Mekong River in China's Yunnan province. Lu Kang said that walking on the local streets, the architectural styles are "almost identical" to those in Xishuangbanna, Yunnan, and the wedding and funeral customs of locals are also very similar.
Currently, China has become one of the main sources of tourists to Indonesia and the second largest overseas education destination country for Indonesian students.
In addition to Chinese food and martial arts, popular Chinese elements in Indonesia include games from China. Lu Kang jokingly said, "Many young Indonesians may not have a deep understanding of China, but they are very familiar with Chinese video games."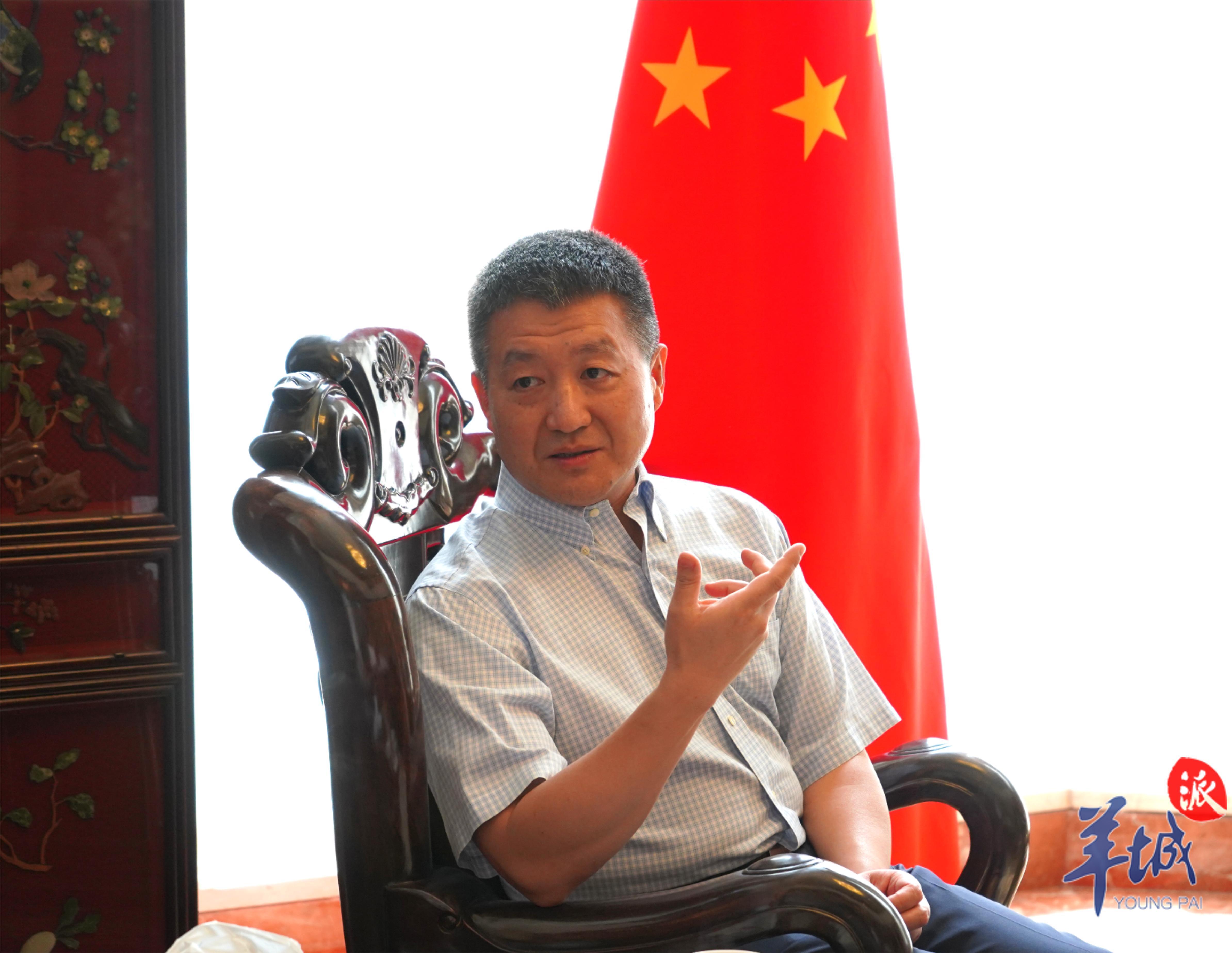 In Lu Kang's view, the historical origins of cultural exchanges between the two countries can be traced far back with deep roots, providing a good foundation for better promoting Chinese culture in Indonesia. "The local Chinese community plays an active role in Indonesia's national development. Their willingness to promote cultural exchanges between the two countries is also very strong and they have rich experience." Lu Kang believes that in addition to appreciating the contributions of local Chinese people, common ground also needs to be found between the peoples of the two countries.

Indonesia has a population of over 270 million, making it the fourth most populous country in the world. Since the 1997 Asian financial crisis, the Indonesian government has made continuous efforts through various measures to address structural poverty issues.
In February 2021, China announced the complete victory of its battle against absolute poverty, fulfilling the arduous task of eliminating extreme poverty and building a society of moderate prosperity across the nation. During his 20 months of duty in Indonesia, Lu Kang found that Indonesian society is generally very interested in China's story of poverty alleviation. "They want to know: also as a populous country, how did China manage to lift 700 million people out of poverty in such a short time? This is an excellent chance for telling good China's stories."
Cultural appeal boosted by strong national strengths
2023 holds special significance for China-Indonesia relations: it marks both the 10th anniversary of the establishment of the comprehensive strategic partnership between China and Indonesia, and the 10th anniversary of President Xi Jinping's first proposal of the 21st Century Maritime Silk Road initiative in Indonesia. In October, the Jakarta-Bandung High Speed Railway, a flagship project of China-Indonesia cooperation under the Belt and Road Initiative, officially began operations, with a maximum speed of 350 km/h, reducing the travel time between Jakarta and Bandung from 3.5 hours to just 40 minutes.
The construction of the Jakarta-Bandung High Speed Railway encountered interference from abroad, but its effects were evident upon opening: tickets were hard to get with carriages almost full. The "Chinese speed" and "Chinese technology" received widespread praise and recognition from the Indonesian public, giving Indonesian society a more tangible understanding of China. Lu Kang said that in addition to greatly improving transportation and people's quality of life in Indonesia, it will also strongly boost Indonesian social and economic development. "It was not easy for the project to materialize, but the benefits are real and substantial."
Today, China is the world's second largest economy and Indonesia's largest trading partner. In Lu Kang's view, cultural soft power is an important component of comprehensive national strength. Many Indonesian officials and businesspeople visit China, visiting world-class companies like Huawei and BYD to learn about China's economic development experience while also understanding corporate culture. "They learn from China's experience in economic development while also appreciating the underlining Chinese culture."
Telling China's stories that overseas audiences can understand
Yangcheng Evening News is a mainstream Chinese media outlet renowned in the Chinese-language media world, with "prioritizing news and upholding culture" as one of its major characteristics and missions of telling China's stories and spreading the Chinese voice well. Since its official launch in November 2020, Yangcheng Evening News' internationally focused "Ling Nan on the Cloud" platform has produced widespread and in-depth influence with remarkable cultural communication outcomes, supported by multi-language capabilities including Indonesian.
Upon learning from Du Chuangui about Yangcheng Evening News' cooperation with prominent Indonesian media Guo Ji Ri Bao, Lu Kang expressed great interest and inquired further.

Regarding international cultural communication, Lu Kang said, "When targeting overseas audiences, it is crucial to understand and use their language systems. Chinese history is very long and our language system is complex. If stories are told entirely according to Chinese linguistic conventions, they may not be understood. Only stories that local people can understand are good stories of China." Lu Kang acknowledged Yangcheng Evening News' prominence in China, saying that it will certainly achieve a great deal in the future.
专访中国驻印尼大使陆慷:中国文化及中国故事在印尼具有强大吸引力
六百多年前,七下西洋的郑和多次经过今印度尼西亚爪哇岛,在这座南洋岛屿上留下了许多来自中国的文明印记。亘古至今,印尼在发展灿烂文明的同时,也不断深化与中国的文明交流互鉴。
2022年2月,陆慷出任中国驻印度尼西亚共和国特命全权大使。在大使馆官网的大使致辞中,他便提出要扩大中印尼人文交流。如何更好推动中华文化走出去,讲好中国故事?近日,由羊城晚报报业集团社长杜传贵带领的采访团队在雅加达中国驻印尼大使馆专访了陆慷大使。陆慷表示,随着中印尼两国合作不断深入,人文和经贸交流更加相辅相成,中国文化、中国故事在印尼具有强大的吸引力。
人文渊源山海相系,寻找两国共情支点
"在历史上,包括印尼在内的整个东南亚地区都与中国有非常密切的人文交流。"陆慷提到,他去过印尼的许多地方,都能感受到中国在当地留下的人文印记。
在爪哇岛三宝垄市,郑和被称为"三保大人",颇受民众爱戴,当地的大觉寺内设有供奉郑和的祠堂。郑和登岛时的避风港——三保洞,更是中华文化遗产之一,成为游客的打卡之地。
在苏门答腊岛发现的"和平文化",则被考古学家认为起源于澜沧江—湄公河上游的中国云南地区。陆慷说,走在当地的街道,建筑风格跟中国的西双版纳地区"几乎一模一样",百姓的婚丧嫁娶风俗,也与云南十分相似。
目前,中国已成为印尼主要旅游客源国之一,同时也是第二大留学目的地国。
除了中国美食、中国功夫之外,在印尼广受欢迎的还有来自中国的游戏。陆慷笑称:"印尼不少年轻人或许对中国的基本情况不甚了解,但他们对中国的电子游戏是非常熟悉的。"
在陆慷看来,两国人文交流历史源远流长,根基深厚,为推动中华文化更好地走进印尼打下良好基础。"这里的华人,在印尼国家发展中发挥着积极作用。他们推进两国人文交流的意愿也十分强烈,并且经验丰富。"陆慷认为,除了重视当地华人的贡献之外,也要找到两国人民的共情支点。
印尼拥有超2.7亿人口,是世界第四人口大国。1997年金融危机以后,印尼政府一直通过多种举措努力解决结构性贫困问题。
2021年2月,中国宣布脱贫攻坚战取得了全面胜利,完成了消除绝对贫困的艰巨任务,全面建成小康社会。在印尼履职的20个月里,陆慷发现,印尼社会对中国的脱贫故事普遍很感兴趣。"他们很想知道:同为人口大国,中国究竟是如何在这么短的时间里,让七亿人摆脱了贫困?这是讲述中国好故事的一个绝佳切入点。"
文化吸引力提升,离不开强盛国力支撑
2023年对于中印尼关系而言是具有特殊意义的一年:既是中印尼全面战略伙伴关系建立10周年,也是习近平主席在印尼首次提出"21世纪海上丝绸之路"倡议10周年。10月,作为中印尼共建"一带一路"合作标志性项目的雅万高铁正式开通运营,最高时速350公里,将雅加达和万隆之间的车程从3个半小时缩短到40分钟。
雅万高铁的建设曾经受到外界的干扰,但开通之后的效果显而易见:高铁一票难求,车厢几乎满座。"中国速度""中国技术"获得印尼民众的广泛好评,也让印尼社会对中国有了更具象的认识。陆慷说,雅万高铁的开通运行不仅极大改善了印尼人民的出行方式和生活质量,也将大力带动印尼社会经济发展,"项目的落地十分不易,但带来的好处是实实在在的"。
如今中国是世界第二大经济体,也是印尼最大贸易伙伴。在陆慷看来,文化软实力是综合国力的重要组成部分。许多印尼政要和企业家前往中国访问,参观华为、比亚迪等世界一流企业,同时也了解企业文化,"既学习中国经济发展的经验,也感悟蕴含其中的中国文化"。
讲海外受众听得懂的中国故事
羊城晚报是享誉华文媒体界的中国主流媒体,一直将"新闻主攻、文化主守"作为办报的一大特色,肩负着讲好中国故事、传播好中国声音的使命。羊城晚报精心打造的"云上岭南"国际传播融平台自2020年11月正式启动以来,在海内外产生广泛、深入的影响,文化传播成效显著。
在听到杜传贵介绍"云上岭南"具备包括印尼语在内的十多种语言传播能力时,陆慷表示出极大的兴趣,还特别了解了羊城晚报与印尼著名媒体《国际日报》的合作情况。
谈及文化的国际传播,陆慷提出他的建议:面向海外受众时,一定要了解和使用他们的语言体系。"中国的历史很悠久,我们的语言体系很复杂。如果完全按照中国的语言体系来讲故事,人家不一定能听得懂。"陆慷坦言,只有讲让当地民众能够听懂的,才是好的中国故事,"我知道羊城晚报在中国是很有名气的报纸,相信未来必将大有可为,必定大有作为。"
文、图 | 羊城晚报特派雅加达记者 付怡 王漫琪
翻译 | 陈书君
责编 | 王楠 戚美青
校对 | 桂晴