[Gourmet of Lingnan] Playing an"unconstrained" dessert concerto under Canton Tower 【食尚岭南】面朝"小蛮腰",奏响"无框架"的甜点协奏曲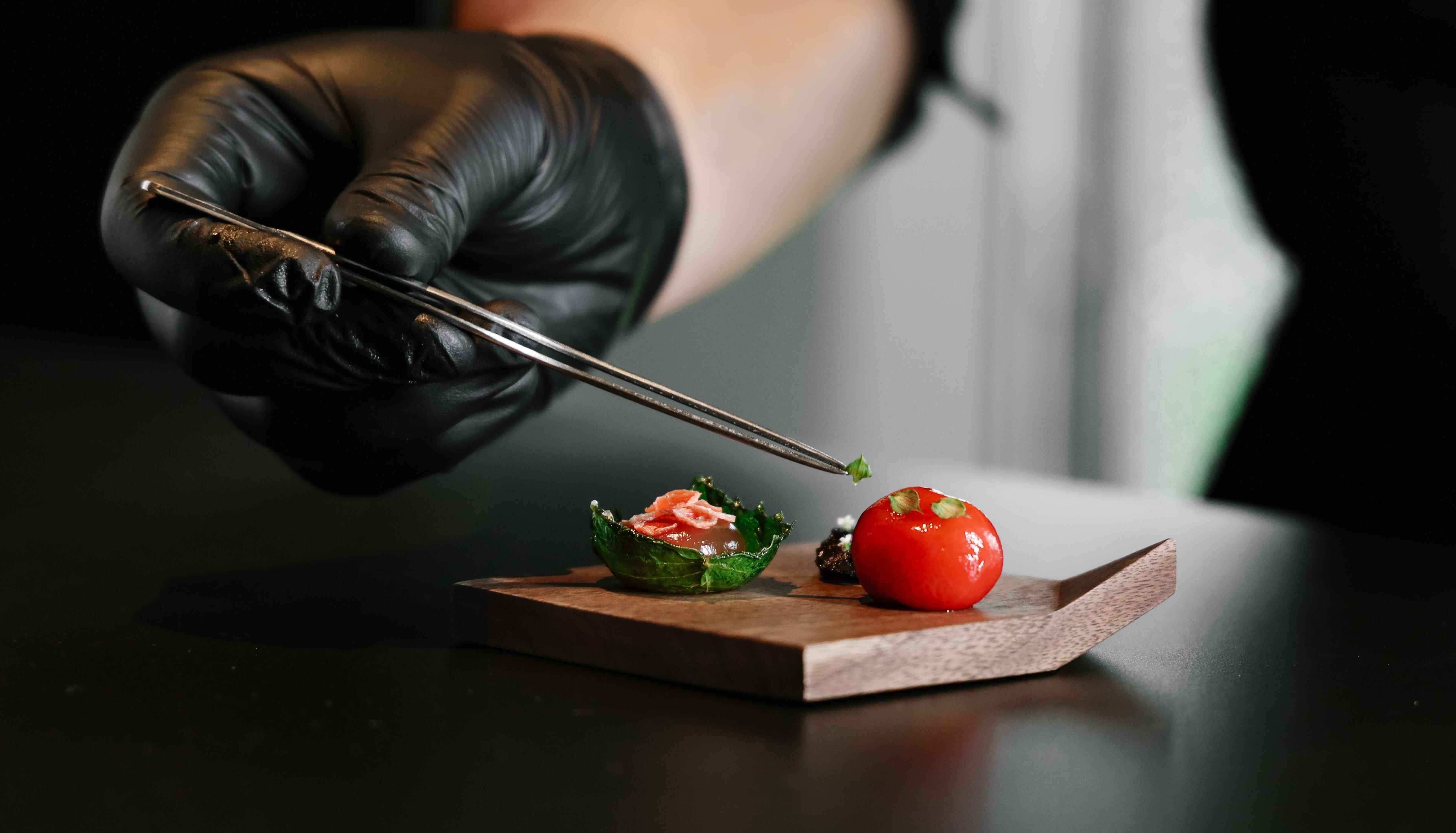 传统认知中,甜点在西餐中都是主菜的附属品,为一顿美食画上圆满的句号。因此,即便是在颇具盛名的特色西餐厅,法式甜点都必须搭配主菜去设计制作,以实现锦上添花的存在。
In traditional perception, desserts are always considered as accessories to the main course in Western cuisine, providing a perfect ending to a meal. Therefore, even in renowned special Western restaurants, French desserts must be designed and made for the main course as an extra touch of elegance.
如果甜点成为主角,也分开胃菜、前菜、汤、主菜会是怎样的奇妙有趣?在"NATUR Plateddessert馟",主理人赖浩彦给了我们答案。
If desserts become the protagonist and are separated into appetizers, starters, soup, and main courses, what kind of wonderful and interesting experience would it be? At NATUR Plated Dessert Tu, the chefLai Haoyan has given us the answer.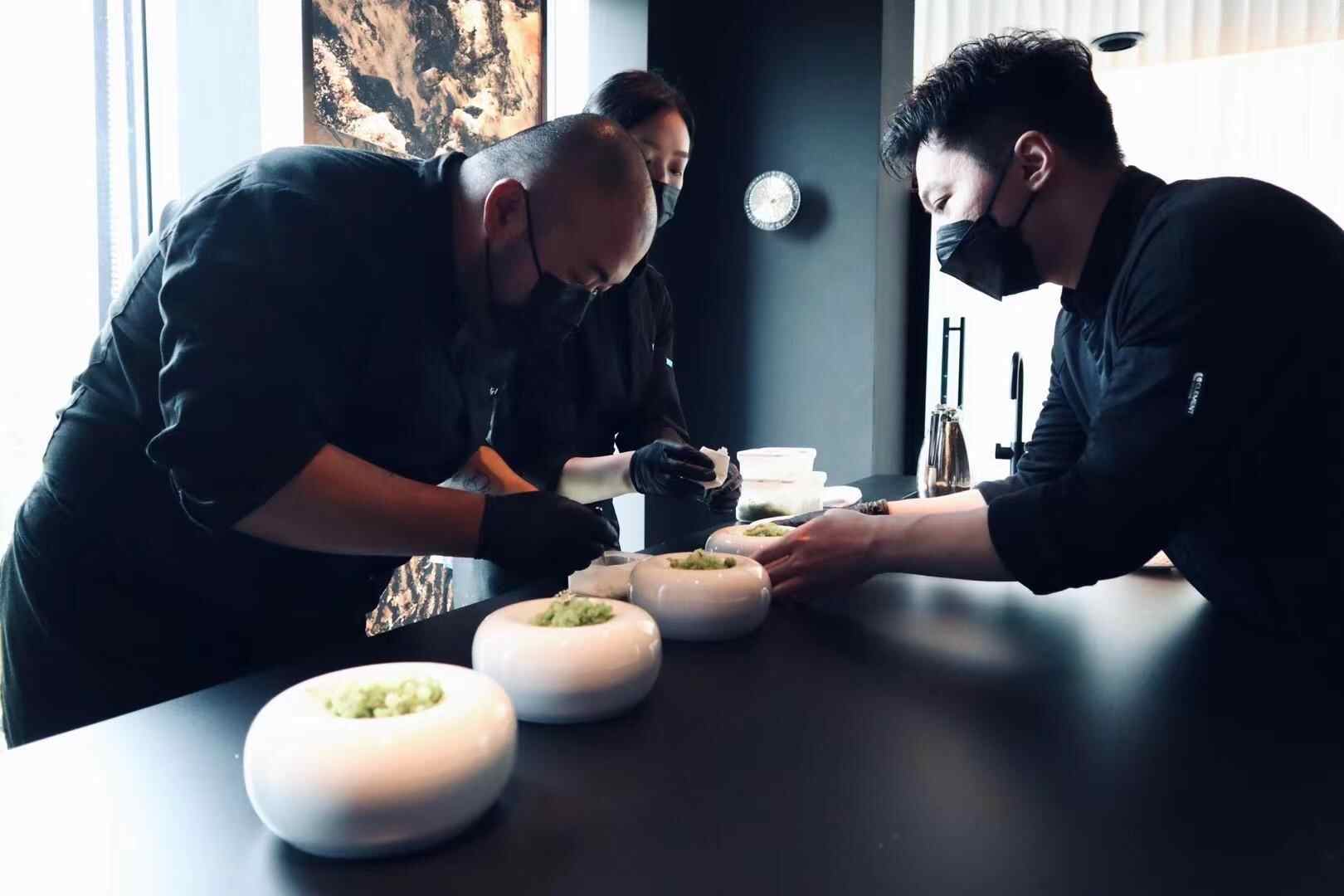 在法式甜点、意式甜点风靡主流品味的今天,赖浩彦有一个很有趣的理论:甜点,不一定是甜的。他勇敢地向传统发起挑战,开始探索甜点的更多可能。于是,就有了这家面朝广州塔、坐落在海珠区的精致甜点餐厅。目前这里每天仅招待六位客人,采用板前享用模式,客人可以一边品尝依次送上来的甜品,一边欣赏远处"小蛮腰"的风姿。
Nowadays, French and Italian desserts are popular. However, Lai Haoyan holds an interesting perspective: desserts don't have to be sweet. He bravely challenges tradition and explores more possibilities for desserts. As a result, this exquisite dessert restaurant was born under Canton Tower in the Haizhu District. Currently, only six guests are served here each day at the chef's table. Guests can enjoy the desserts served one by one while admiring the distant view of the Canton Tower.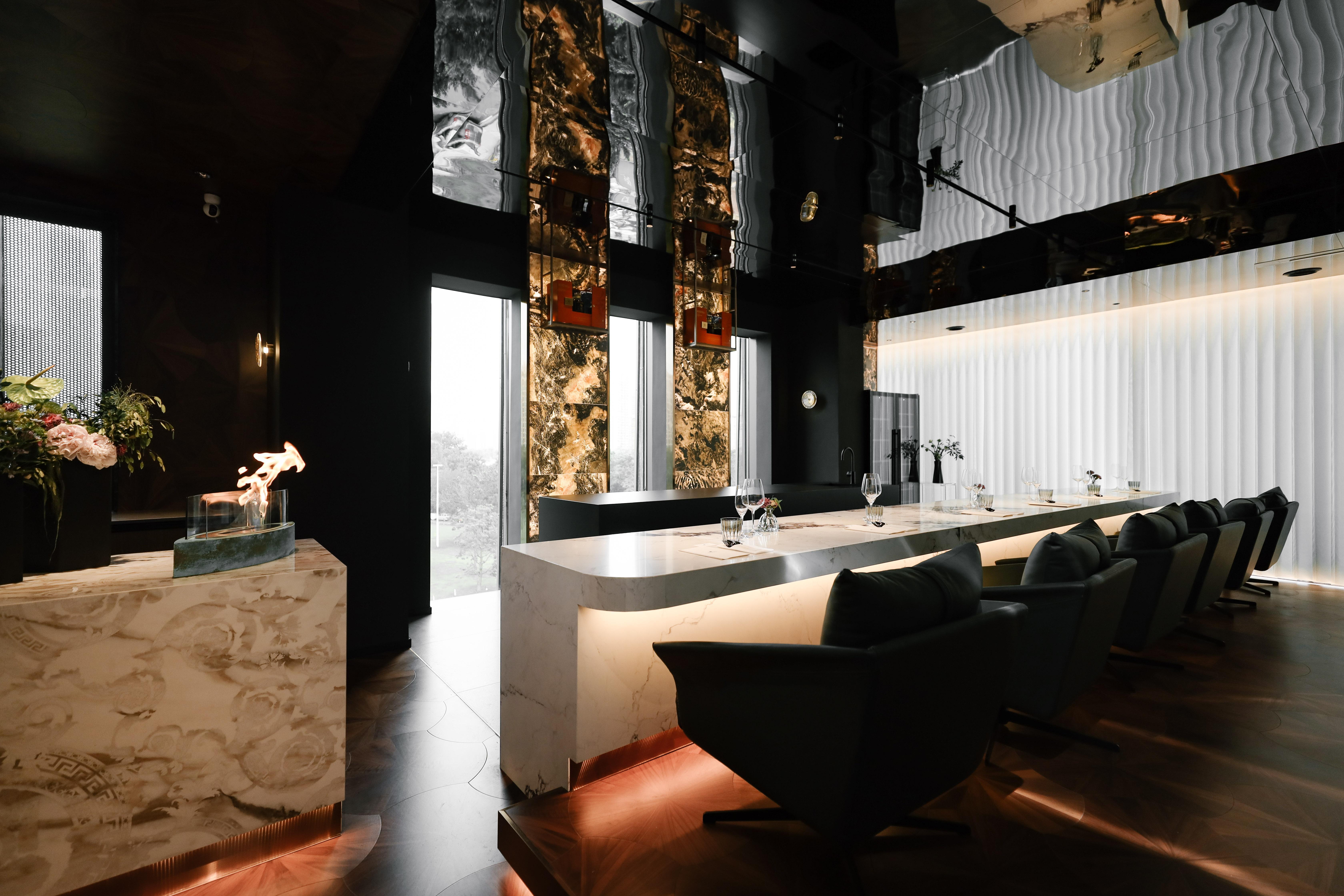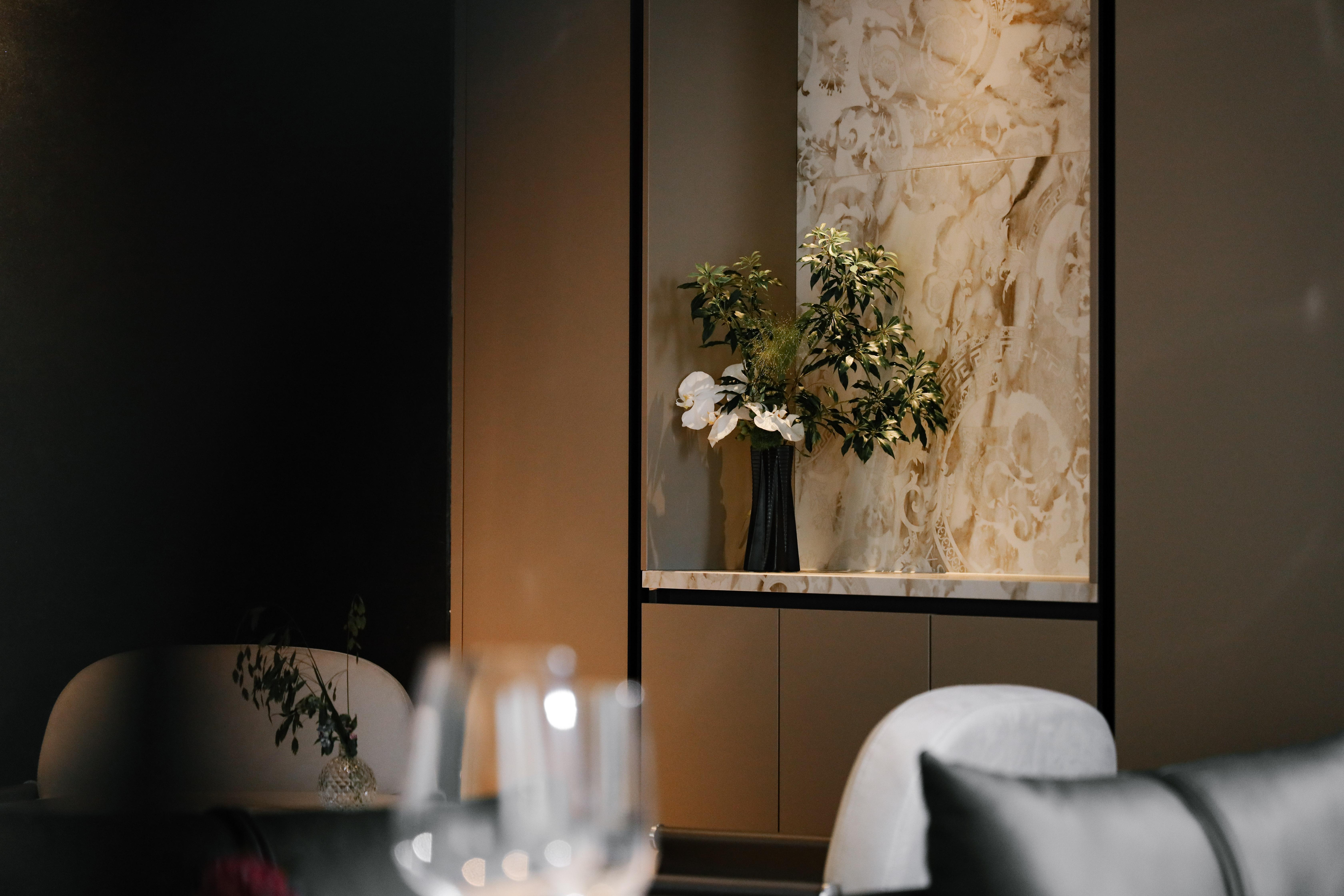 这家餐厅的菜单很特别,复古的黑白印刷、主理人手绘的甜品草图……要想象成品,的确有些难度。不过根据食材用料的文字描述,马上就能理解,这不是一家传统的法式甜点餐厅。
The menu of this restaurant is very special, with retro black and white printing and hand-drawn dessert sketches by the chef... It is a bit difficult to imagine the restaurant. However, from the description of the ingredients, it is easy to understand that this is not a traditional French dessert restaurant.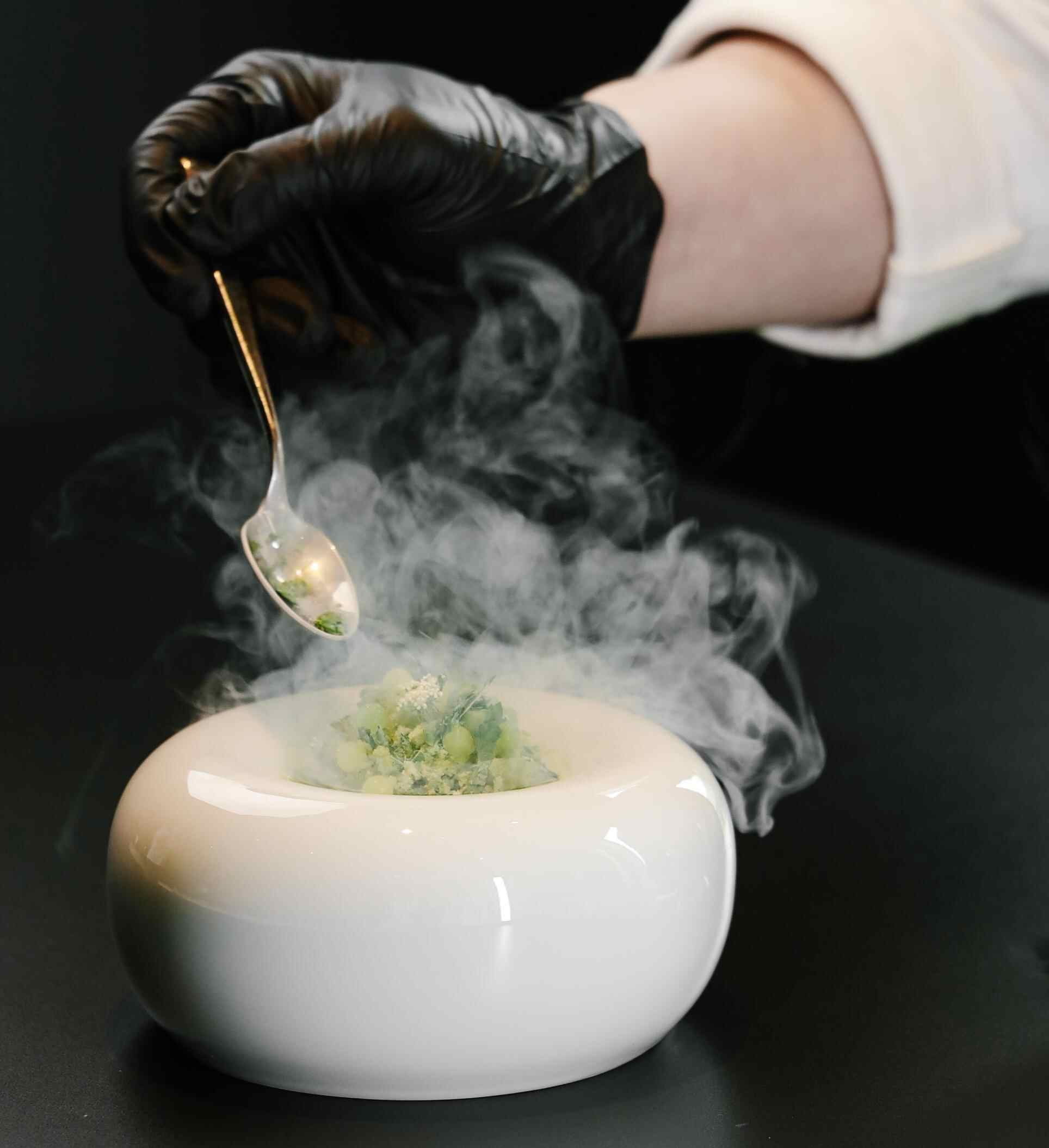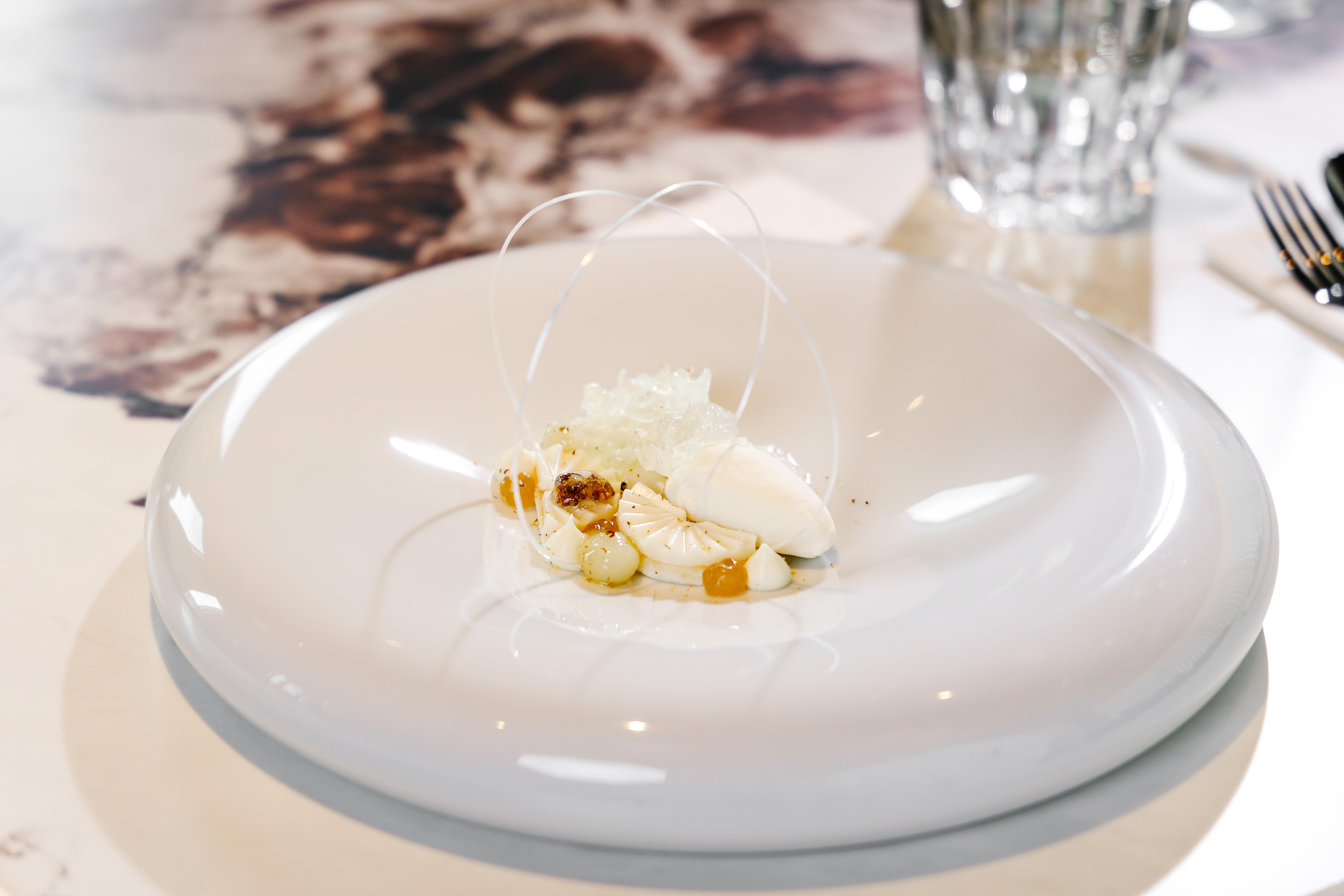 苦瓜、乌梅、西湖龙井、甘竹鲮鱼罐头、黄姜、醪糟,这些妥妥的中式元素似乎都在有意无意地提醒你:甜品,可能真的不一定只是甜的,本地食材,也能与国际甜点文化接轨。
Bitter melon, dried plums, West Lake Longjing tea, Ganzhu Brands Canned Fish, turmeric, and fermented rice…These Chinese elements seem to remind you intentionally or unintentionally that desserts may not necessarily be sweet, and local ingredients can also blend with international dessert culture.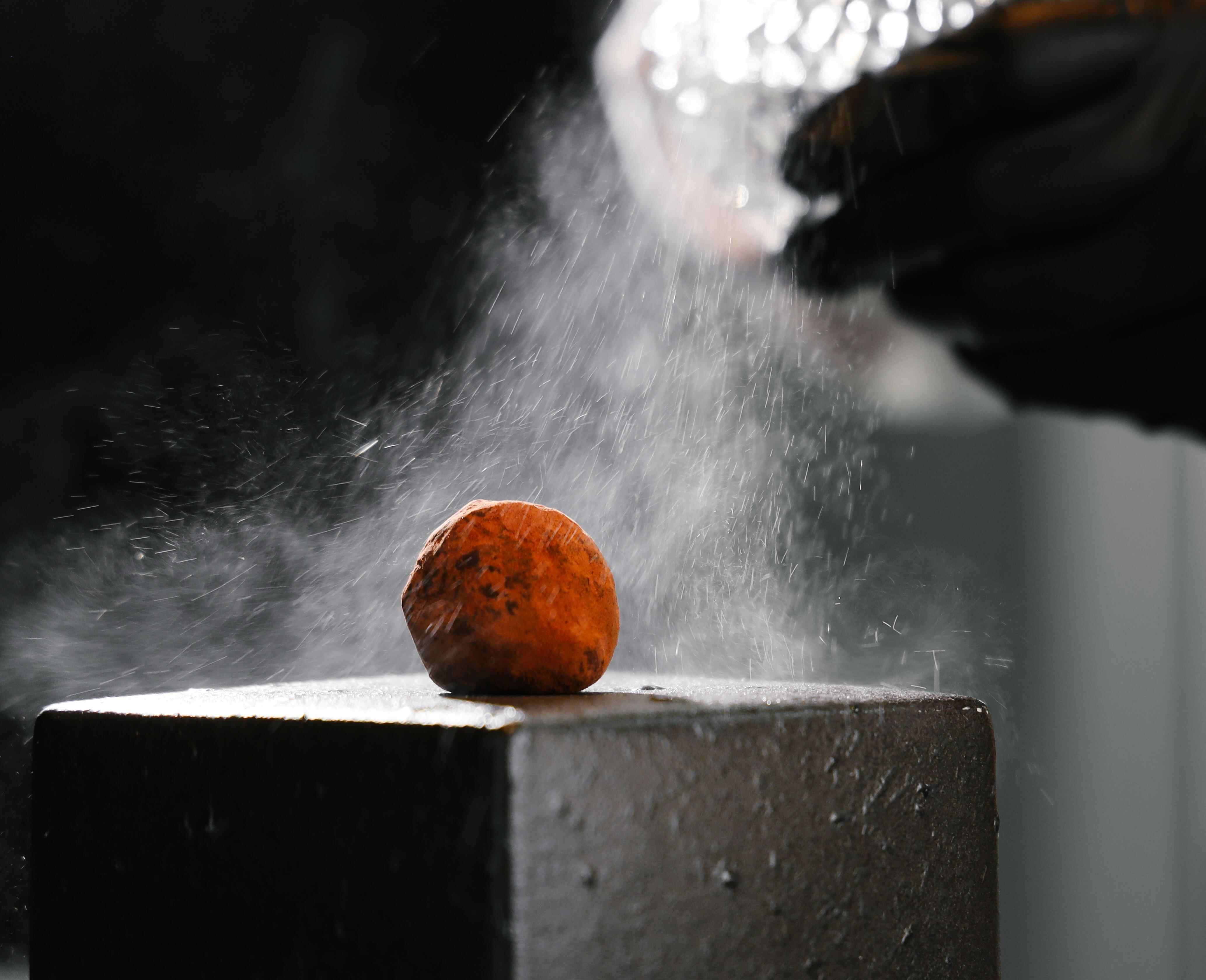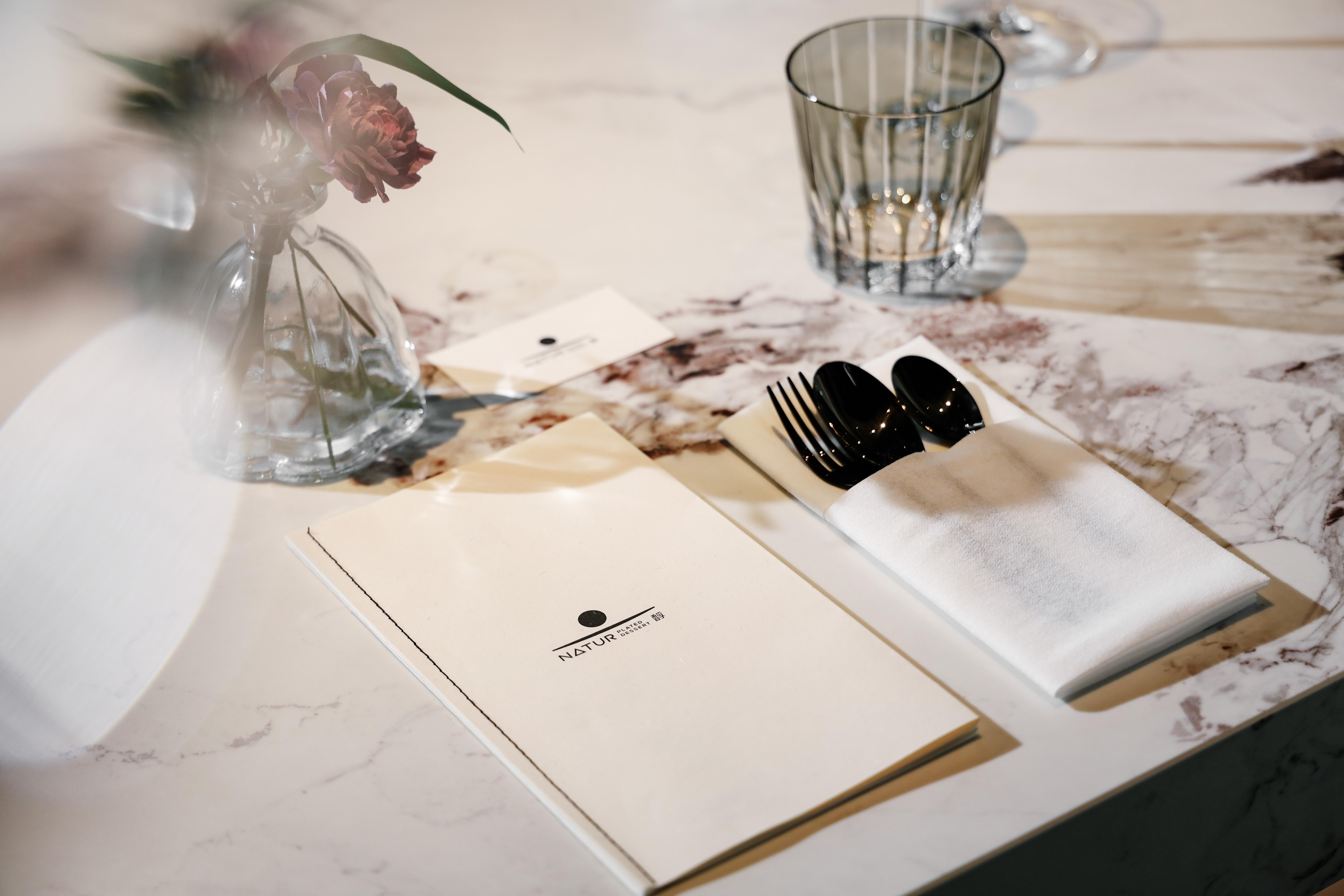 除了在中西融合上颇下心思之外,这家餐厅还在致力打造可持续发展方向的精致甜品品牌,实现"食品闭环"并充分利用。何谓闭环?就是制作每道甜点的时候,都力求食材利用最大化,但并非简单循环再用,而是通过另一种艺术的呈现。
In addition to putting a lot of effort into the fusion of Chinese ingredients and Western desserts, this restaurant is also committed to creating a refined dessert brand that focuses on sustainable development, achieving a "food closed-loop" by making full use of it. What is a closed-loop? It means that when making each dessert, the aim is to maximize the utilization of ingredients, not simply recycling, but through artistic presentation.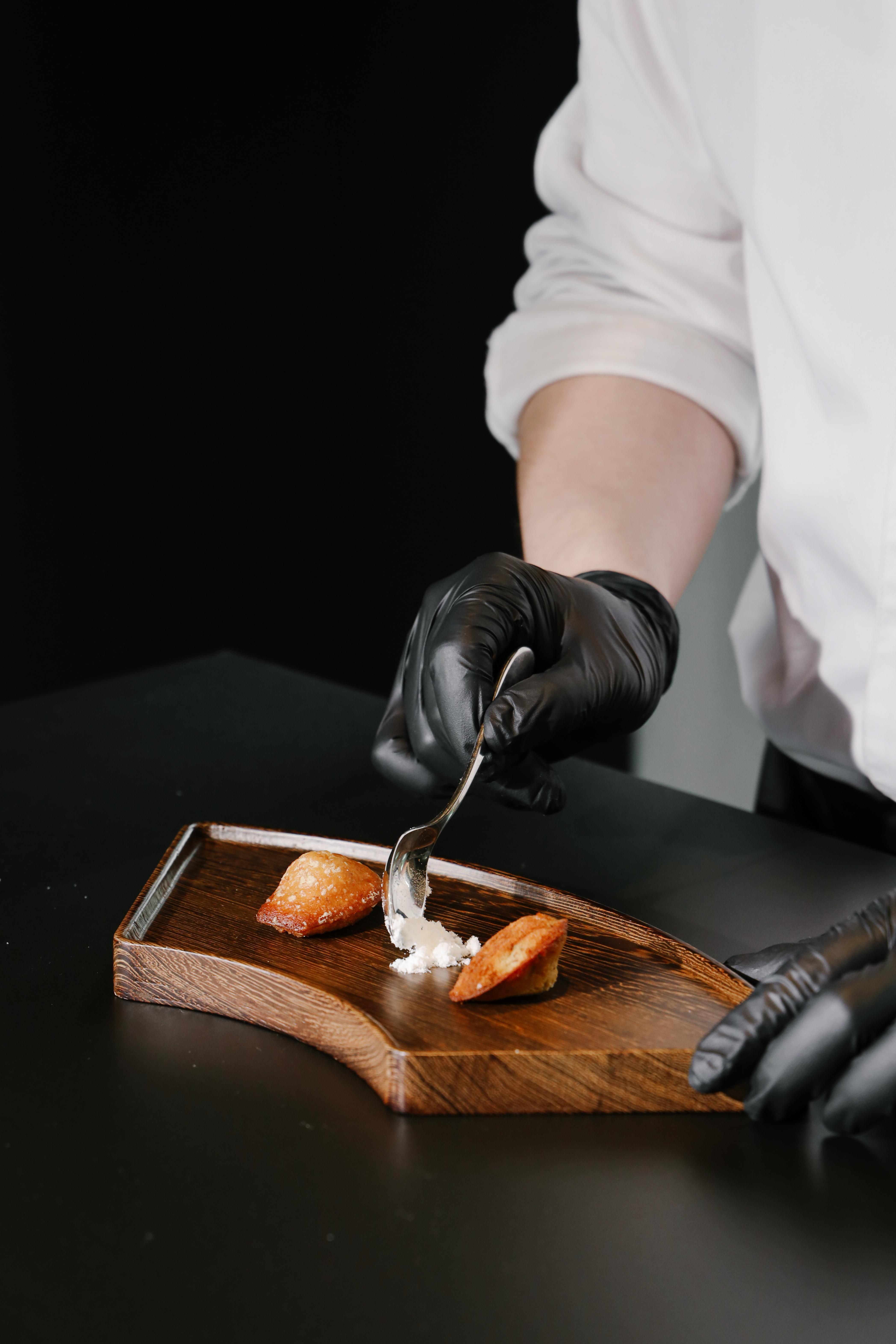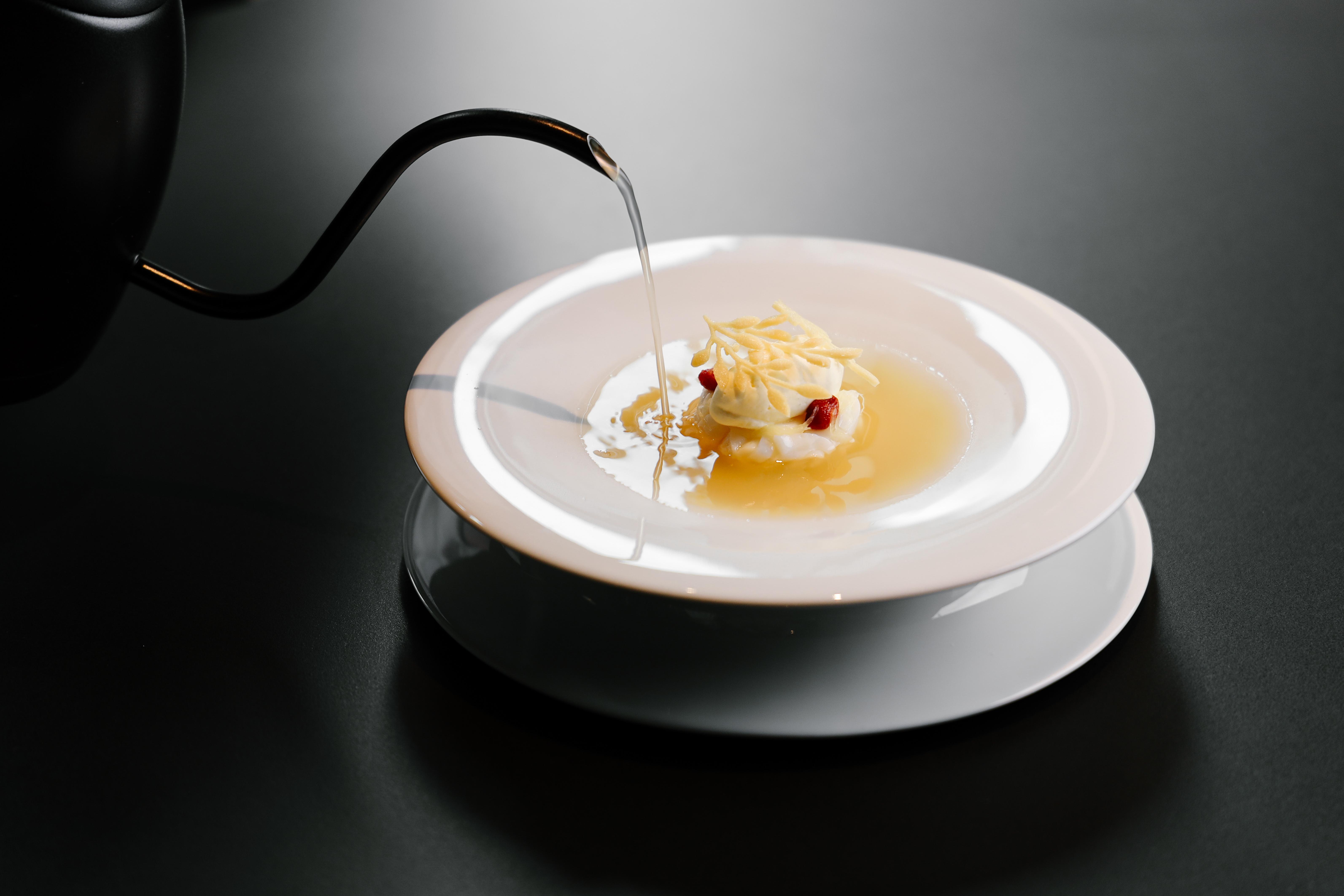 例如主甜品黄姜鲜牛奶,鲜牛奶做成细条的河粉状,搭配黄姜煮出来的汤,营造出冷热的反差感。而用过的姜蓉则会做成姜脆糖片,铺在牛奶冰淇淋上,宛如一顶精致的帽饰。
For example, the main dessert, Fresh Milk with Turmeric, is made of fresh milk cooked into thin strips like rice noodles and turmeric soup, creating a contrast between hot and cold. The leftover ginger is made into ginger brittle and placed on top of the milk ice cream like a delicate hat.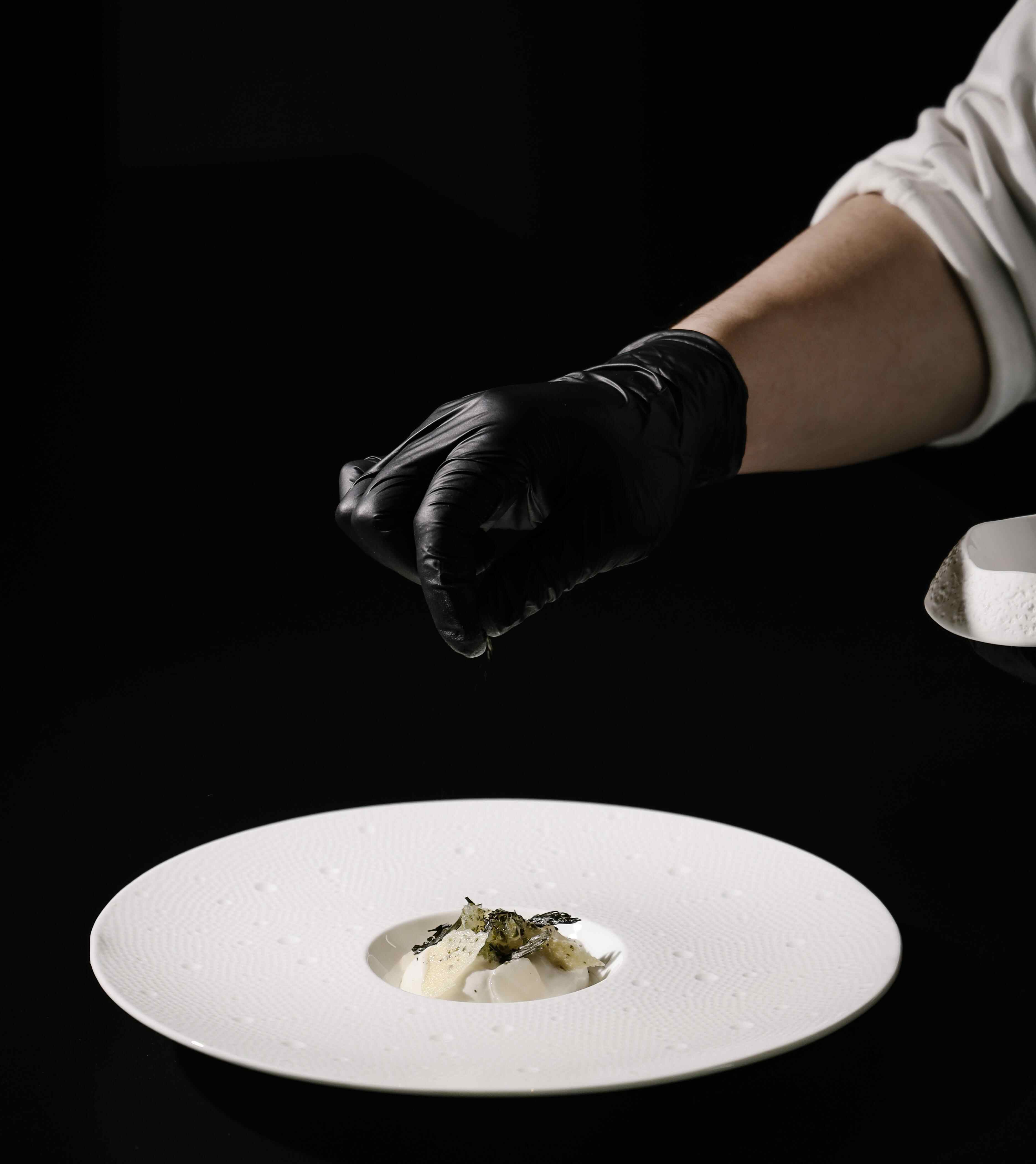 艺术盘式甜点套餐,也许对广州人来说还是一个新鲜事物,但是广州餐饮市场毕竟是百家争鸣的,而且这一次奏响的是专属于甜品的协奏曲。如果想要获得"一件蛋糕,一杯茶"以外的精致体验,不妨和主理人一起感受这次"无框架"的甜品之旅。
Artistic desserts may still be novel for people in Guangzhou, but the Guangzhou catering market is competitive and comprehensive, and this dessert concerto is also welcomed. If you want to have a refined experience beyond just "a piece of cake and a cup of tea", why not join the chef and enjoy this "unconstrained" dessert journey together?